Suite Bits - Cloud Quarters Edition
Millions of people across the globe are dealing with the impact of COVID-19 and adjusting to a new normal in life and work. To reduce the risk of spread, businesses and government agencies are implementing drastic yet necessary social-distancing measures for employees and constituents. The sweeping changes have led to a sudden and unprecedented increase in the number of people working remotely from home.
Equipped with the best technology and the G Suite portfolio of cloud products, you can enable your entire organization to work remotely with the same level of quality and efficiency to have continuity in your business.
To assist in this transition to a remote workforce, SADA has developed a live streaming series to showcase the real-time capabilities of the G Suite portfolio, and how you can empower your employees and have a positive impact on your new working environment. Register and join the first in a series of live webinars addressing various challenges with solutions.
In this Session, you will learn:
Intro to G Suite
What is Google Meet?
How to setup, run a meeting and share information
Updating your Meet security settings
Accessing Google Chat
Best practices in communication for remote workforce
Overview of Enterprise G Suite capabilities & how to take advantage of
free 90-day upgrade
Details:
Date: Thursday, March 26th, 2020
Time: 10:00 am - 10:20 am PST, followed by 10 mins of Q&A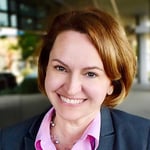 Expert:
Heather Summers
Digital Transformation Manager @ SADA
---