Still not confident in migrating to the cloud?
Today's enterprise needs to be agile in how it collects, manages, and distributes data to create new economic opportunities. On-premise solutions can require more resources to manage and are unable to scale to keep pace with customer needs, business growth and technology change.
The cloud, however, uses a flexible and agile framework to:
address changing business and technology requirements

adopt functionality from third-party solutions

deliver meaningful value for users across the enterprise

and more
Among the many benefits these platforms offer, there are five that are most critical for using cloud technology to support business success.

Download "The Top 5 Benefits of Moving from a Legacy System to the Cloud" Brief to learn more today!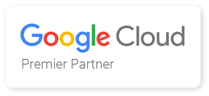 SADA Systems, an award-winning Google Cloud Premier Partner, provides business and technology consultancy and related services that transform organizations through innovative cloud-based solutions.